PRIVACY AND PERSONAL DATA PROTECTION NOTICE - CASUAL FURNITURE GROUP

Casual Furniture Group wants the experience of contact with its products and services, through this site, to create a feeling of satisfaction. For this, we recommend that you carefully read this Privacy Notice, reproduced below.
This Notice of Privacy and Protection of Personal Data ("Notice"), applies to the Pages related to Casual Furniture Group, understanding as such all those listed on the official website of Casual Furniture Group, through the address http://www.casualmoveis.com.br/, as well as, applies to all its products and services.
To better illustrate how we process data, we present a summary of our Privacy and Personal Data Protection Notice: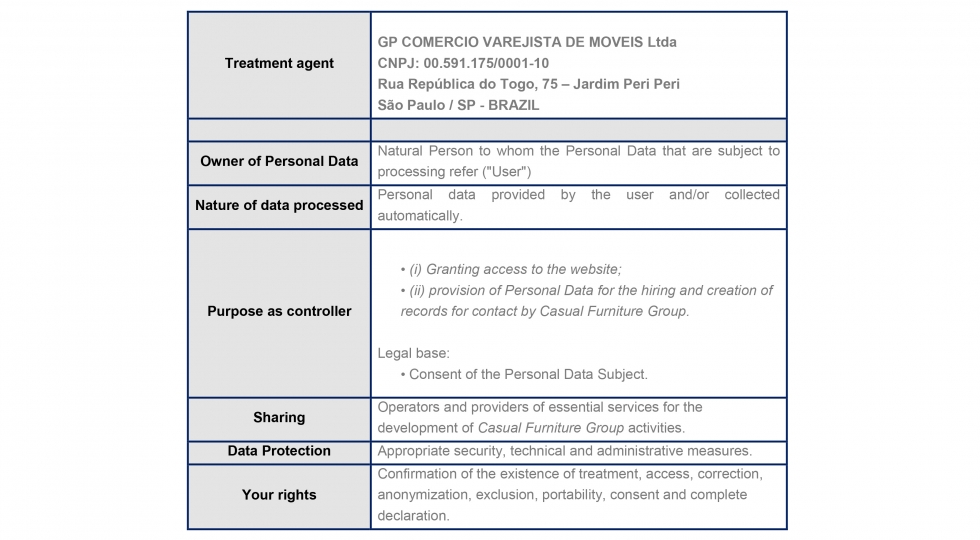 This Notice may be updated, at any time, by Casual Furniture Group, upon notice on the website and/or by email, if the User has chosen to receive communications from Casual Furniture Group.
I. WHAT PERSONAL DATA WE USE
Casual Furniture Group may collect personal data actively entered by the User at the time of registration on the Casual Furniture Group website (http://www.casualmoveis.com.br/) and also personal data collected automatically when using the pages and the network, such as identification of the commercial establishment used, IP with date and time of connection, among others.
In this sense, there are two types of personal data: (i) those provided by the User; and (ii) those collected automatically.
(i) Personal data provided by the User: Casual Furniture Group handles all personal data actively entered by the User, such as full name, e-mail and telephone number, when filling out the Contact Us form on the User Contact Page or when completing the registration of the professional as name, company, CPF, telephone, company, position, address, city, in the Professional Area. Casual Furniture Group will use this personal data to grant access to the website, provide information on products and services, to contract and create contact records, as well as to offer promotions, discounts and/or benefits at Casual Furniture Group or its commercial partners, as long as authorized by the User.
(ii) Data processed automatically: Casual Furniture Group also automatically treats personal data, such as: characteristics of the access device, browser, IP (with date and time), IP origin, click data, accessed pages, or search term entered into search engines. For such collection, Casual Furniture Group will use standard technologies, such as cookies, pixel tags and beacons, which are used with the purpose of improving the user's browsing experience on the pages, according to their habits and preferences and to generate statistics access and improve the usability of the Site.
The User will be able to access, update and add their data, as well as may request the deletion of their data processed by Casual Furniture Group and provided by consent.
II. HOW WE USE PERSONAL DATA
The personal data collected by Casual Furniture Group are exclusively intended to (i) be used for the correct provision of the contracted services; (ii) the provision of data for the hiring and creation of contact records by Casual Furniture Group.
Casual Furniture Group will not use the data provided by the user for direct marketing purposes or for any other type of communication, unless they have been expressly consented to by the data subject or are related to the provision of services contracted by the User.
If you have any questions, please contact the company by e-mail falecom@casualmoveis.com.br
Legal Basis: In these cases, data processing is based on item I of article 7 of Law No. 13.709/2018, the General Data Protection Law ("General Data Protection Law – LGPD").

III. HOW WE USE COOKIES
Cookies are used to make your browsing faster, they save your login data and preferences to facilitate your access to the various functions of our platforms and help to provide personalized content for you.
Most browsers allow you to disable the use of cookies in the settings. However, by disabling them you can compromise your browsing on the site, making it slower or running out of some functionality. For more information, access the Cookie Notice.
IV. WHO WE WILL SHARE THE DATA WITH
The personal registration data processed may be shared by Casual Furniture Group with: (i) other partner companies, when necessary for the proper provision of the services object of its activities; (ii) to protect Casual Furniture Group' interests in any type of conflict; (iii) upon judicial, administrative or arbitration decision, or upon request from a competent authority.
Furthermore, we clarify that your personal data may also be shared with companies that provide the technological and operational infrastructure necessary for Casual Furniture Group' activities, such as information storage service providers.
It is important to highlight that third parties that provide services to Casual Furniture Group and that have a specific relationship with the Personal Data of Users are duly adhered to the General Data Protection Law.
V. HOW WE KEEP THE DATA SECURE
Casual Furniture Group will store the personal data processed on its Pages on its own servers or those contracted by it.
Casual Furniture Group uses the market and legally required means to preserve the privacy of the data processed on its Pages. Thus, it adopts the following precautions, in compliance with the guidelines on safety standards established in Decree No. 8.771/2016, such as:
a) uses standard and market methods to protect collected data;
b) has protection against unauthorized access to its systems;
c) only authorizes the access of previously established persons to the place where the processed personal data are stored;
d) Those who come into contact with personal data must undertake to maintain absolute confidentiality. The breach of confidentiality will result in civil liability and the person responsible will be held liable in accordance with Brazilian legislation; and
e) Maintenance of the inventory indicating the time, duration, identity of the employee, or the person responsible for accessing the object file, based on the connection and access records to applications, as determined in article 13 of Decree No. 8.771/2016.
Casual Furniture Group will permanently use its best efforts to protect the privacy of your account and other Personal Data that we maintain in our records, but we cannot guarantee total security.
Unauthorized account entry or use, hardware or software failure and other factors may compromise the security of your Personal Data at any time, so please help Casual Furniture Group to maintain a safe environment for everyone. In addition to adopting good security practices in relation to your account and your Data, if you identify or become aware of something that compromises the security of your Data, please contact us.
In order for us to guarantee the confidentiality and protection of your personal data, it is important that you also take the following precautions:
i. Use only the official channels provided by Casual Furniture Group;
ii. Pay attention to the origin of the messages, not accessing the Casual Furniture Group website, through links received by email, SMS, WhatsApp, Telegram and others from sources other than Casual Furniture Group itself;
iii. Always keep your browser and antivirus updated;
iv. Update your personal data, whenever there is any change, through the area logged on the Casual Furniture Group website;
v. Always be aware of the information contained in this Privacy Notice; and
vi. Never share your password or login.
VI. RETENTION OF PERSONAL DATA PROCESSED
Personal Data processed by Casual Furniture Group through the Pages will be deleted when the treatment period ends, or when the data subject requests the deletion.
Without prejudice, Personal Data may be kept for compliance with a legal or regulatory obligation, transfer to a third party – provided that the data processing requirements are respected – and exclusive use by Casual Furniture Group.
VII. YOUR RIGHTS
In compliance with the applicable regulations, with regard to the processing of personal data, Casual Furniture Group respects and guarantees the User the possibility of submitting requests based on the following rights:
i. confirmation of the existence of treatment;
ii. access to data;
iii. correction of incomplete, inaccurate or outdated data;
iv. the anonymization or elimination of unnecessary, excessive or non-compliant data;
v. the portability of your data to another service or product provider, upon express request by the User;
vi. the deletion of data processed with the User's consent;
vii. obtaining personal data about public or private entities with which Casual Furniture Group has shared your data;
viii. information about the possibility of not providing consent, as well as being informed about the consequences, in case of refusal;
ix. the revocation of consent.
Part of these rights may be exercised directly by the user, from the management of information about their account, while others will depend on sending a request for further evaluation and adoption of other measures by Casual Furniture Group.
If you need any assistance to exercise your rights, the User can contact Casual Furniture Group, as directed in this Notice.

Casual Furniture Group will make every effort to fulfill such requests in the shortest possible time. However, even in case of exclusion request, the minimum storage period of information of Internet application users will be respected, determined by Brazilian legislation.
VIII. LEGISLATION AND JURISDICTION
This Notice will be governed, interpreted and executed in accordance with the Laws of the Federative Republic of Brazil, especially Law No. 13.709/2018, regardless of the Laws of other states or countries, the jurisdiction of the District of the Holder being competent to settle any disputes arising of this document.
Or contact the company by e-mail falecom@casualmoveis.com.br.